Posted on October 10, 2018
Jumpstart Your Job Search Episode 1:
Overcoming Limiting Beliefs in Your Job Search, with Jenna Armato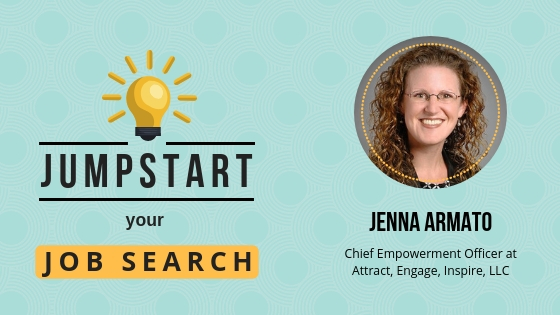 About this Episode:
Jenna Armato, John Maxwell certified speaker, coach, & trainer, offers ways to overcome limiting beliefs to achieve our goals.
She shares with us her personal story about how self-reflection helped her to leave a job that made her feel stuck - and how she emerged to find fulfillment in helping others to discover the Power of Perspective: navigating change and growing forward. She has lots of great tips to help gain clarity in a job search, and in your life.
Also, Lalena explains why this word should never make it onto your resume, and how to communicate your strengths authentically throughout your job search.
About Our Guest:
Jenna Armato is Chief Empowerment Officer at Attract, Engage & Inspire – and is a John Maxwell certified Speaker, Coach, and Trainer. She serves on the BOD for the American Marketing Association in Philadelphia, and is also a Charter member of a new organization: Women Willpower Alliance, which serves women in leadership. She's also a facilitator for several of their workshops.
Links:
Contact Jenna: jenna@attractengageinspire.com
Jenna's LinkedIn Profile:https://www.linkedin.com/in/jennaarmato/
Attract, Engage, Inspire website: https://attractengageinspire.com/